Me And "The DaVinci Code", 7/23/2005

A "SEA GLASS" STORY

I used to sit down near "Glass Beach", where I collect the Sea Glass, and sell my Sea Glass jewelry to the tourists.

I was sitting there one day in June, 2005, reading "The DaVinci Code" to pass my time.

I had just read about a five-petaled rose in the book, the major symbol in a book of symbols, because it represents the Holy Grail, which is what the book is about. What I had read was, "The rose is synonymous with the Grail." and was sitting there thinking about that when a woman came back up off the beach and asked me if it was usual to find rose-colored glass.

I said, "No, rose is very rare. I don't even have any."

She said, "Well, I found a piece," and put her hand in her pocket. I expected her to pull out a small pebble. Instead, she handed me one of the most beautiful pieces of beach glass I have ever seen come off the beach.

I looked at it and was totally in awe when I saw it had a perfect five-petaled rose on it, complete with three sets of leaves: the very same rose I was reading about in the book when she walked up! (Picture below)

When I showed her what I reading in the book, she gave me the piece of sea glass, the most beautiful piece of beach glass I have seen. God forgive me, I think her name is Celia.

The finishing touch was that she was from "Santa Rosa",
or "Saint Rose", California.

A friend of mine from New Brunswick, Canada, Rachel, found a similar piece with the same pattern and managed to find it online. It was made by Jennifer Glass between 1932 and 1934, and the pattern name is "Adam", which means "man".

This is the world of magic and light I live in.
Beautiful, often not-so-sublime, synchronicities everyhwere.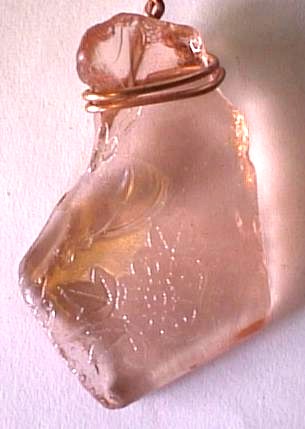 Please read my "Symbol of Unity" site for how to live in a world like this, too.